15.05.20
What we do 2020 > Asia Region > COVID-19 Bangladesh > Foods for Hunger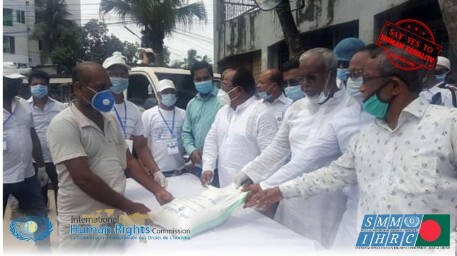 Dated:15-5-2020.
Foods for Hunger
International Human Rights Commission
SMM IHRC Bangladesh foods distribution running..
Honourable Secretary General of SMM IHRC his Excellency Mr sir Rafal M.Wasik personal quote "...because what we doing today we do for generation" if we serve good for society the Generation strengthening & they can do better service for next.it will continue & good result brings human.
SMM IHRC Bangladesh Volunteer Mr Manik Hossain V-no 1724, Mr Mahboob Islam V no-1528,Mr Abdur Razzak V-no 1760 has distributed Foods among 200 family's under KHULNA City Corporation Paik para, Khalish pur area.yesterday 14-05-2020 with some of his friends Mr Kazi Marshal Tipu Mr Tarikul Islam Komol, Mr Abu Bakkar Siddiqui,Mr Ismail Hossain Ratan,Mr Anonna Rahman & Mr Gazi Eshtiak Rahman took part distribution service.
Bangladeshi Volunteers are Cordial,Sympathise, heartiest & service Minded.by this time many location we have distributed foods as our limitation.
According to NVC & Peace Ambassador Mohammed Elias Serazi advise & prior informations volunteer Mr Manik Hossain taken initiatives Foods Distribution.

Mohammed Elias Serazi