Gender based Violence is inhumane and doesn't define a fair world
Our projects > Human Rights > 16 days activism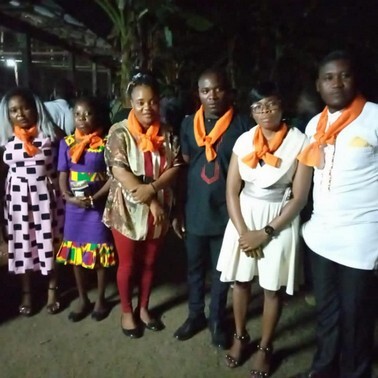 IHRC in Cameroon~16 Days of Activism Against Gender Based Violence, Sensitization Campaign at Mondoni , South West Region
The International Human Rights Commission ~ Special Monitoring Mission Volunteers Team of Cameroon was present at Mondoni, a rural settlement in the Southwest region,led by Her National Coordinator, Mrs. Holy Anagho and close collaborators.
This took place on November 28th, 2020, following recent sensitization campaigns against gender based violence at several communities and institutions within the region. A record 500 + Participants were present for the IHRC lecture on gender based violence.
The community elites and settlers welcomed the team, who diligently sensitized the masses on the devastating consequences of gender based violence (GBV).
"Gender based Violence is inhumane and doesn't define a fair world".
"Both sexes needed to act with tolerance and fairness toward one another"
They further outlined some devastating repercussions of gender based violence on women and the girl child(the most vulnerables)including ; injuries, untimed/unwanted pregnancy, sexually transmitted infections (STIs) including HIV, pelvic pain, urinary tract infections, fistula, genital injuries, pregnancy complications, and chronic conditions.
This went a long way to educate the masses on the need to put a firm end to such inhuman practice.
The delegation added more light to the lecture,emphasizing the need to accept gender equality,fair and equal representation of both sexes in different walks of life,and most especially,tolerance,which is a priceless virtue.
The Mondoni Community expressed much gratitude to the team for carefully and patiently sensitizing the masses on the need to put an end to GBV on women and the girl child.They expressed felicity and unanimously agreed to take delight in protecting the vulnerable woman and girl child in their immediate community and beyond.A woman added that "This message is a sign of relief and hope for us,who thought no one cared...Thank you IHRC"
Despite security challenges,the team left satisfactorily and "oranged" Mondoni,in line with the vision of the International Human Rights Commission.
National Volunteers Coordinator, Mrs.Holy Anagho.
Cc: H.E Bienvenu Goare Hiroua (MNVC/PA)
(IHRC SMM,Cameroon)