Diplomatic Award
What we do 2020 > Africa Region > COVID-19 Cameroon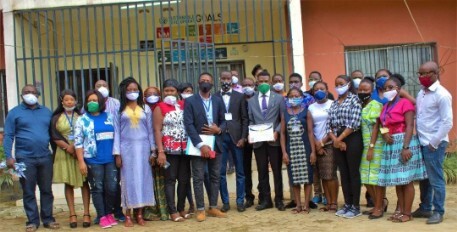 "A SERIAL AWARD's CEREMONY" A REPORT ON THE DIPlOMATIC AWARD CEREMONY AT THE CENTER FOR HUMAN RIGHTS AND DEMOCRACY IN AFRICA [CHRDA], LUKMEF AND STRATEGIC CENTER FOR PEACE[ SCPL] JUNE 2020.
The volunteers team of International Human Rights Commission in Africa(Cameroon and Chad) were welcomed by those various humanitarian organizations and collaborators on behalf of their founders. They used this opportunity to brief the IHRC/SMM on the activities carried out by their organizations in the fight against COVID19 and Human Rights .
A brief presentation on their activities based on data collections by Unfolding Catastrophe ,evidence on Human Rights Violation and Crime Against Humanity ,may 2016- may 2019.
The Multi-National Volunteers Coordinator on behalf of International Human Rights Commission ,Special Monitoring Mission ,thanked those organizations for receiving his team ,briefing on IHRC and the purpose of their visit.
The purpose of the award from headquarters of International Human Rights Commission is to encourage organisations ,institutions ,individuals that help the less privileged and the vulnerable during this period of the pandemic.
During the ceremony of award, the staff of those organizations and IHRC exchanged some topics on COVID19 and Human Rights and the challenges that the country and Buea,south west region of cameroon are facing vis-a-vis this global pandemic .
Both parties where highly satisfied with the deliberation with a positive future, with hope to work in partnership and even to sign a memorandum of understanding .
To close the award ceremony the IHRC team issued certificates of recognition in their fight against COVID19 and Human Rights. The three (3) organizations were impressed and hope to have future collaboration with IHRC and its vision.
Mr Kevin Nkwain in charge of Human Rights took the IHRC team on a guided tour of various departments of CHRDA,the humanitarian departments.

Best regards MNVC of IHRC